Alpes Maritimes departement
Provence-Alpes-Côte d'Azur in France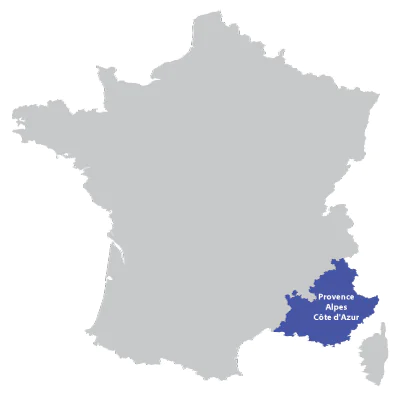 The Alpes Maritimes departement is in the Provence-Alpes-Côte d'Azur region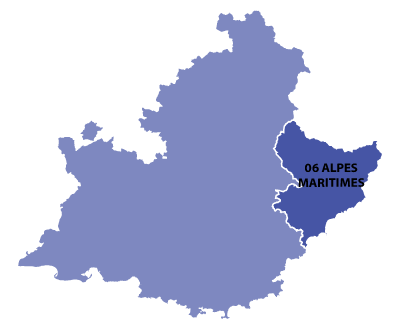 Click on a map to zoom
The code number for Alpes Maritimes is 6
This department has the famous coastline on the Mediterranean sea, with the well know towns of Cannes, Nice, Antibes, Juan-les-Pins and Monaco.
Bordering Italy and the Mediterranean sea.
The coastal resorts and ports with luxury yachts dominate the importance of the area, but the back country is also wonderful to explore, with an imposing mountain region. There is an important production of flowers such as lavender destined for perfume production.
Towns and cities
Nice
The city of Nice is the largest along the Provencal coast. It became part of France as late as 1860, finally leaving the hands of the Savoies.
Events, expos, festivals
Cannes film feestival
:
With a very strong tradition in awarding only yhe best in cinema, the Cannes film festival continues to grow in importance and influence. Held once a year, with the awards of a "Palm d'Or", the event is a must for film stars and fans from around the world.
Landmarks
Belvédère and Gordolasque
: A superb collection of photos from the village of Belvédère and the valley Gordolasque. Take a few moments and a journey to a wonderful place.
Tourism, travel, information
Antibes
: Local information and photos.
Saint Tropez
:
Famous for many things, from film stars to sun and sand, the village of Saint Tropez still holds to its ledgends. Hot summer nights, yachts and that cetain French way of doing it.
Villages, towns, cities
Belvedere
: A superb collection photos of the small village Belvedere located in the Gordolasque valley and the National Park Mercantour. Just a dozen kilometres inland from the city of Nice.