Vendée departement
Pays-de-la-Loire in France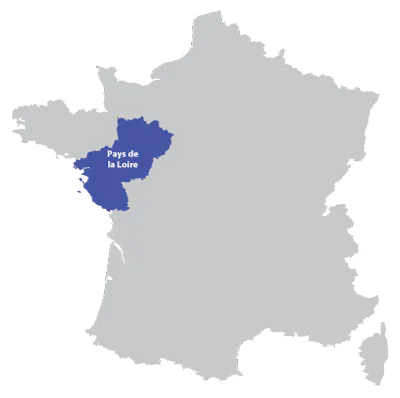 The Vendée departement is in the Pays-de-la-Loire region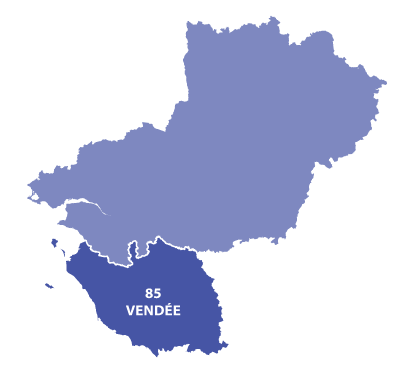 Click on a map to zoom
The code number for Vendée is 85
On the Atlantic coast, this area has much to offer to all sailors and boating fans. From the Sables de Olonne to La Roche-sur-Yon.
The climate is very moderate and agreeable with one of the highest amount of sunshine hours in France. This is ideal for pheasant, partridge and quail farms, which is an important part of the local economy.
A traditional local drink is called Trouspinette, which is a made from wine and berries.

Home of one of the most exciting sailing boat races the Vendee Globe.
Towns and cities
La Roche sur Yon
Strong hold for the people of the Vendee, in 1804 Napoleon decided to rebuild the town and pacify the people. The old centre has regular blocks and streets, which is most uncommon in France.
Events, expos, festivals
Puy du Fou
:
The Puy du Fou is one of the extraordinary parks to visit. Gladiators fighting, Vikings attacking fortified castles. Villages built to present different times in history. There are minstrels, master falconers, horses. A huge arena with races and battles. At night one of the most impressive sound and light shows to be seen. The park covers more than 40 hectares and provides fun, culture and a thrilling time for the whole family.
.
Gites, Bed and breakfast, Chambres hotes
Chateau de l'Abbaye Moreilles
: Château de l'Abbaye offers excellent accommodation and is just 30 minutes from La Rochelle and the Marais Poitevin
Sport
Vendee Globe yacht race
:
One of the world's most exciting sailing race adventures, a round-the-world and single-handed yacht. The race is held ever four years, stating and finishing at Les Sables-d'Olonne.